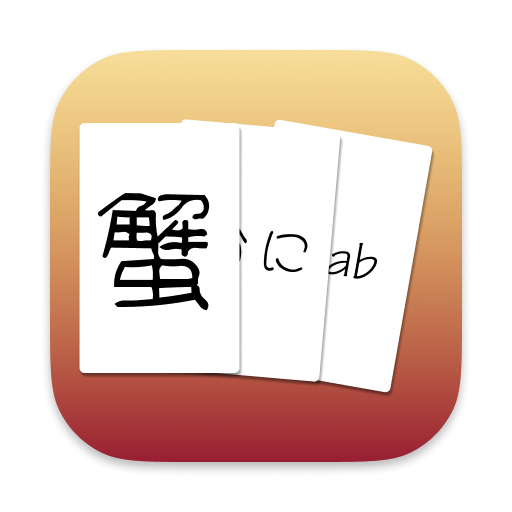 KaniManabu
KaniManabu is an app that allows people who are studying Japanese to learn new vocabulary and Kanji effectively on macOS.
Requires macOS 10.15 or later.

Patreon Client Download (Active Patrons only)
Not Your Traditional SRS Flashcard App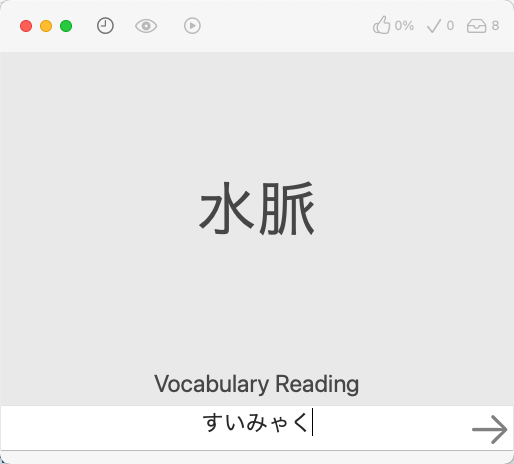 KaniManabu Is traditional SRS (Spaced Repetition System) flashcard apps like Anki and Memrise not working for your Japanese vocabulary? Unlike those apps, KaniManabu by default requires the user to type the answer instead of looking at it just like WaniKani, a Kanji/Vocabulary learning web app. KaniManabu also utilizes a similar SRS system from that app along with the 8 SRS stages.
If the user wishes, there is an Anki mode, which allows users to guess the answer in their mind before showing the answer. Afterwards, the user can select the Wrong and Correct button to advance to the next review item.
Review mode allows for alternate answers and imprecise answers for meanings. In Kanji mode, it will warn you if you enter the alternate reading instead of the primary one. The same for not putting "to" for a verb English meaning.
If you use WaniKani already, this app is great for studying vocabulary and JLPT Kanji not covered in the app.
Three Deck Types to choose from (Kana, Kanji, Vocabulary).
Memorize by Typing the Answers or using Anki Mode
Don't want to create your own decks? There are pre-made JLPT Vocabulary decks you can start off with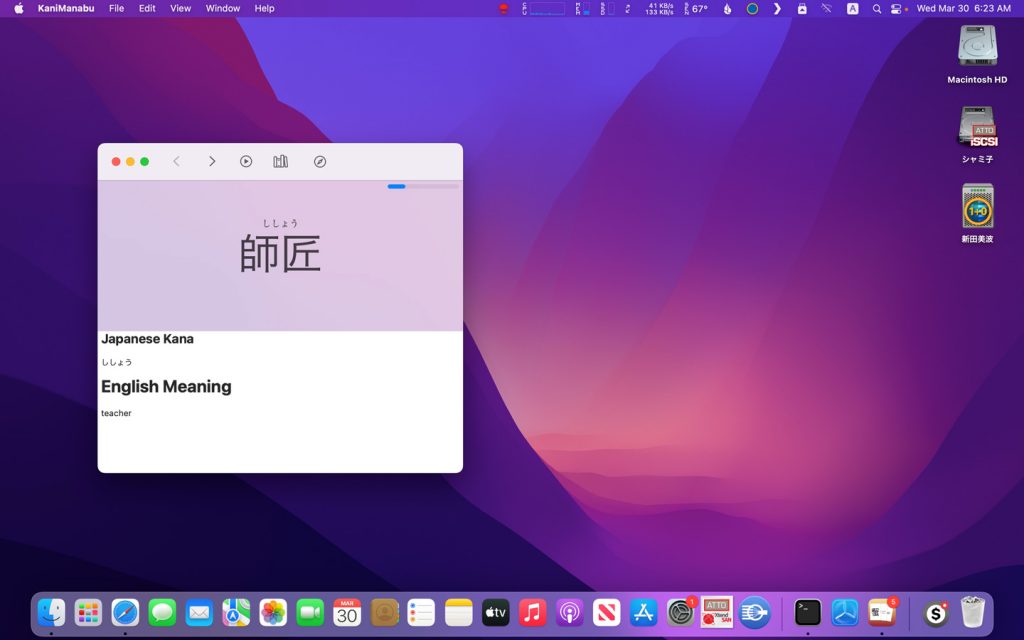 Learn by Previewing New Items, Not Reviewing
Let's face it, looking at new cards and guessing the answer without previewing the cards first isn't going to work for most people. In KaniManabu, you get to preview the cards and have a chance to learn the word through Learn Mode.
After previewing the cards in the learn queue, you will review them before adding them to the review queue. This allows the user to learn at their own pace instead of being forced to review new items in a review session every day.
By using your WaniKani account, you can view a Kanji breakdown of a vocabulary and check if vocabulary you are adding is not on WaniKani so you don't overreview them.
---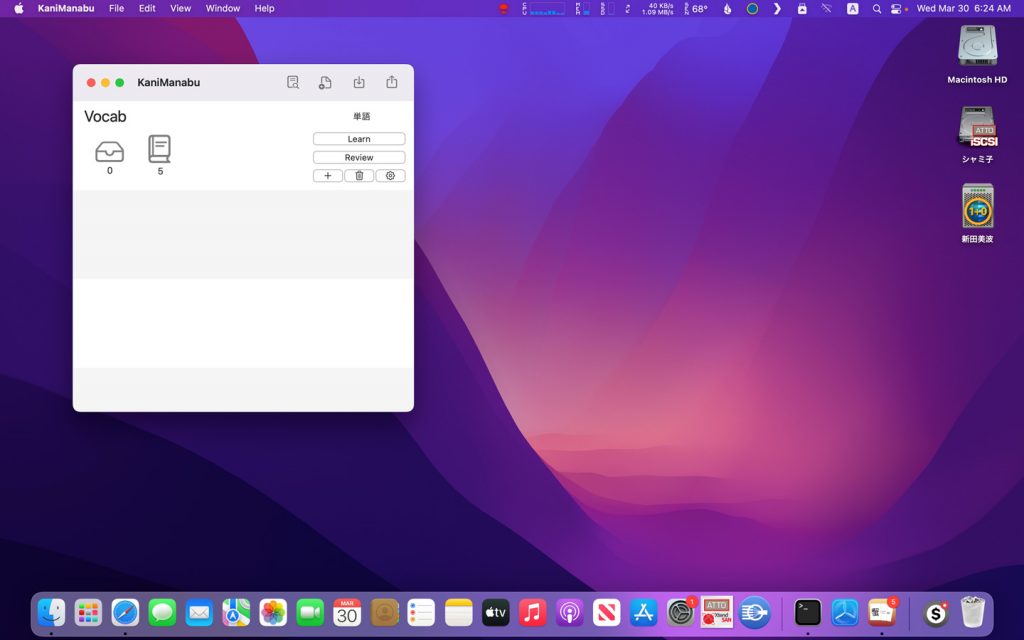 Your Decks and Study Progress is Yours
Unlike other SRS Flashcard apps, we do not store your decks stored in KaniManabu on our own servers or third party ones. Utilizing CloudKit, your decks are synced across all Macs and stored on iCloud, encrypted. Only you have access to your decks and progress.
KaniManabu is easier to use with three different deck types to choose from. After creating a deck, you simply add new cards containing words or Kanji you want to study. No need to mess around with templates.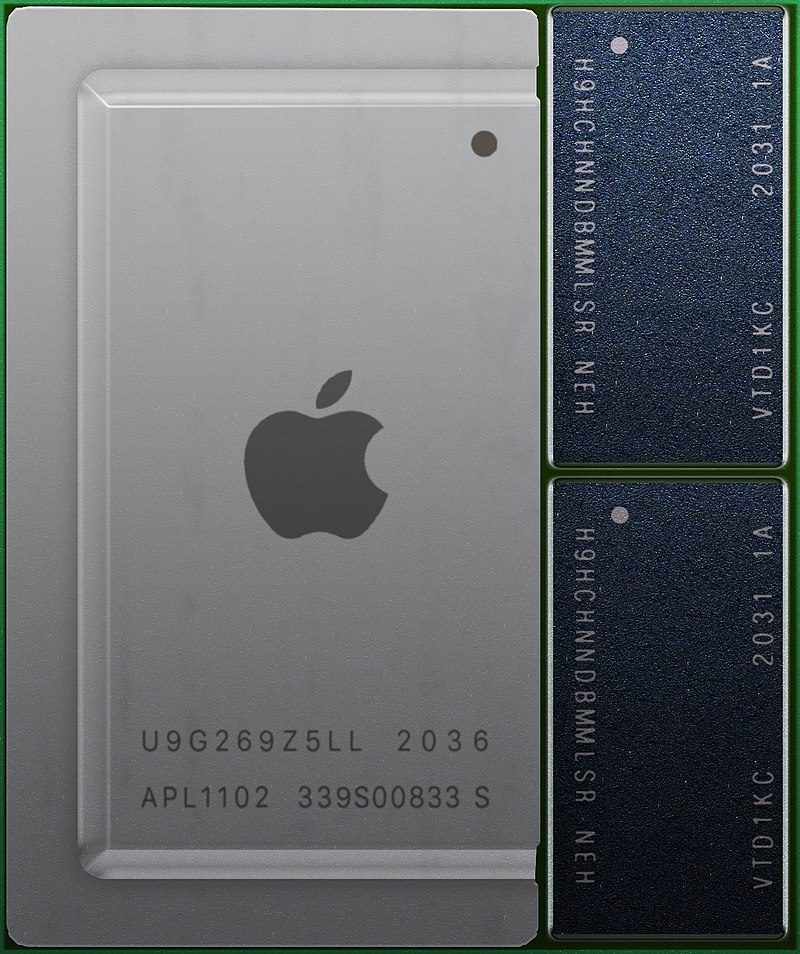 Optimized for Apple Silicon and macOS
More apps are increasingly using frameworks like Electron to provide cross platform support. However, Electron provides a un-Mac like experience and uses a lot of resources, thus causing poor system instability, high resource usage and poor battery life.
KaniManabu is specially designed for macOS, utilizing the technologies to give the best user experience. Also, the app is Universal Binary 2, allowing it to work on both Intel and Apple Silicon Macs natively.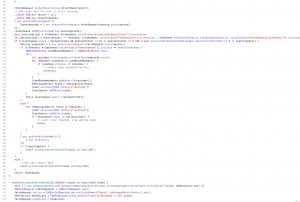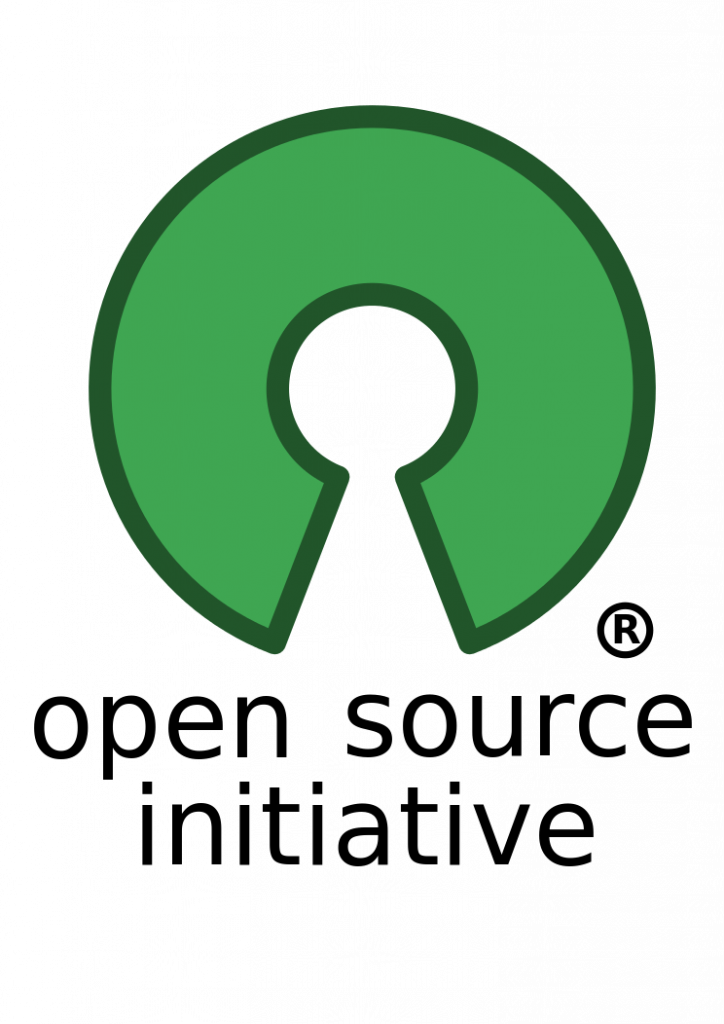 We are Open!
We believe in making our source code open to the public so users can learn how the app functions and also make improvements.
While the app is libre, as in you are able to do anything with the source code, such as viewing/learning it, modifying it, or redistribute different versions of the app. However, it's not gratis as it cost money to develop and distribute the app, especially since Apple requires an Apple Developer Membership to do so.
The free version is limited to three decks and a message that will appear at launch. These are the only limitations. With a subscription, you can unlock additional features like life-like TTS and other helpful study tools while removing the deck limit.
Full Feature List
Custom decks with three types to choose from (Kana, Kanji, and Vocab)
Decks are saved and synced to iCloud, making them accessible across all your Macs (and eventually iOS devices). App also works offline.
Easy to use, fully native, and macOS optimized interface (no Electron garbage)
WaniKani style SRS review system
Learning mode, which allow you to "learn" the cards before reviewing them. After a learning session, the newly learned cards goes into the review queue.
Ability to lookup words from other resources (Dictionary.app, Monokakido's Dictionaries app, and online resources)
Ability to tag cards for future reference.
TTS support (macOS, Microsoft Azure Speech, and IBM Watson)
Browse cards by SRS stage and critical condition items (cards that are answered correctly less than 70% of the time).
Ability to suspend cards
Ability to import decks (CSV format)
Ability to view critical items (cards that are answered less than 70% correct)
Anki mode (see answer and click correct/incorrect button)
Ability to enable/disable decks
Ability to reset cards to the first SRS level
WaniKani integration (view information of kanji used in words in item info/lesson sessions and check if the vocab exists on Wanikani before adding. (Note that free users are limited to content available in levels 1-3
Pricing
While KaniManabu is open source app with most of the features available for free, there are limitations. By subscribing, you can help power up your Japanese studies with additional features while supporting the development of our apps.
All subscriptions are done in-app purchases in the App. Prices shown below is for reference only and listed in US dollars. App Store Subscriptions include the iOS App for free. You can manage your subscription in the App Store.
Free
Free
WaniKani-style SRS
Ability to Export/Import Decks
3 Deck Limit
Nag Message on Launch
Monthly
$1.99/mo
Add the features. Removes Deck Limitations
Premium TTS (IBM Watson and Microsoft Azure)*
Removes Nag Messages
Upcoming Premium Features (Conjugation Practice, Text Analyzer, EPWING dictionary integration and more)
Yearly
$17.99/yr
Removes Deck Limitations
Premium TTS (IBM Watson and Microsoft Azure)*
Removes Nag Messages
Upcoming Premium Features (Conjugation Practice, Text Analyzer, EPWING dictionary integration and more)
25% off compared to paying monthly.
Lifetime
$49.99
Removes Deck Limitations
Premium TTS (IBM Watson and Microsoft Azure)*
Removes Nag Messages
Upcoming Premium Features (Conjugation Practice, Text Analyzer, EPWING dictionary integration and more)
No Recurring Subscription Fees
* While the free version allows the use of Premium TTS, extra configuration is required before one can use it.
iOS/iPad OS App
KaniManabu will have an iOS/iPadOS app releasing in the future (Late Spring/Early Summer), which sync with the macOS version, allowing you to study vocabulary on the go.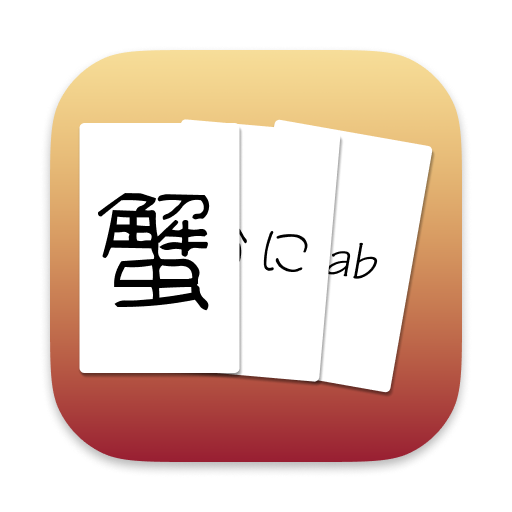 Want to power up your Japanese Learning
Download a free copy today.
Requires macOS 10.15 or later

Patreon Client Download (Active Patrons only)